Our Alliances
"The best partnerships aren't dependent on a mere common goal but on a shared path of equality, desire, and no small amount of passion."

-Sarah MacLean
We're proud to have the opportunity to work with a variety of back-office resources, with relationships designed to serve our clients in the best way possible. We strive hard each day to use our knowledge and connections to find the best solution for our client, and every client's solution is different. Some of the companies we primarily work with are featured below.
AVMA Life
The Eisner Gohn Group is thrilled to announce a partnership with the AVMA Life Trust program. As one of a handful of exclusive AVMA Life Trust providers the Eisner Gohn Group is able to offer insurance solutions to AVMA members and their families. The AVMA Life products have been custom designed and built by the AVMA with The New York Life Insurance Company. The AVMA Life program has been designed to save its members money. As a self rated participating program, the charges to members are based on the claims experience of AVMA members and their families - no other outside groups. And funds received in excess of those required to operate the Program are returned to participants in the form of lower costs or improved coverage. The Program is underwritten by New York Life Insurance Company, one of the industry's most respected names.
New York Life Insurance Company (NY, NY 10010), the underwriter, has received the highest possible ratings for financial strength currently awarded to any life insurer by all four major rating agencies including Moody's Investor (A++).*
*
Individual Third Party Ratings Report (as of 8/9/16)
The Nautilus Group®
As a Member Agent of The Nautilus Group®, a service of New York Life Insurance Company, The Eisner Gohn Group LLC. works hand-in hand with Nautilus specialists experienced in tax, estate law, life insurance, business succession, accounting and charitable giving. This relationship helps ensure you benefit from the most sound thinking when it comes to your individual plan.
New York Life Insurance Company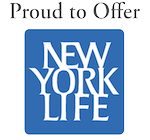 Elaine B. Eisner, J.D., Scott A. Gohn, CLTC and their fellow financial professionals are proud to be affiliated with New York Life Insurance Company. New York Life and its wholly-owned subsidiaries provide life insurance, annuities, long-term care insurance, and mutual funds. A mutual insurance company, New York Life is one of the largest mutual individual life insurance companies in the United States* and holds the highest possible financial strength ratings currently awarded to any life insurer from all four of the major credit rating agencies: A.M. Best (A++), Fitch (AAA), Moody's Investor Service (Aaa), Standard & Poor's (AA+). (Source: Individual independent rating agency commentary as of 7/30/2018)